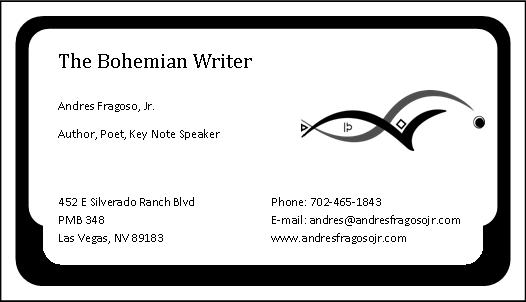 The back of the card is also as important as the front of the card.  This is where you can get creative. If you choose you can have the front of the card with only your name and title, and the back of the card with all of your information.
Or
The front of your card with all your pertinent information, and use the back for one of the following:
Current book on sale: Title, pitch, where to find it.
A Poem: "I ponder by my keyboard – I may be bored – If I don't type, I'll be poor." Andres Fragoso, Jr.
A Quote: "Type or Lie."
An Excerpt: "John stared at the crystal and saw his past, present, and future. An epiphany filled his heart."
List of your published books: Listen, B.S., Random, Dreams of a Bohemian Writer."
If you work on the side: "Editorial Consultant."