Monday, Sept. 11th at the Community Lutheran Church, 6:30 – 8:30pm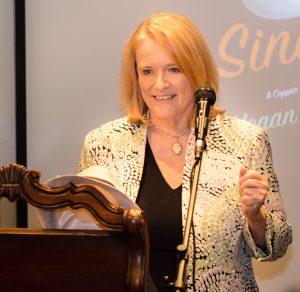 Las Vegas locals know that "literary Las Vegas" sounds oxymoronic to the rest of the world. Outsiders are convinced that the only books to be found in Sin City are sports books, and literacy is not a requirement for excelling at blackjack, playing the slots, or even holding down a job – because everybody in Vegas is a dealer, a showgirl, or a monosyllabic gangster. While the stereotypes persist, awareness is emerging that Las Vegas merits recognition for its vibrant literary community. Megan Edwards will speak about the unique world of letters thriving in southern Nevada and the players – er – writers, philanthropists, activists, archivists, and entrepreneurs – contributing to its growth. Discussion follows – be ready to share your thoughts and observations.
About Megan
When Megan Edwards arrived in Las Vegas to do some quick research for a novel, she had no idea she was on a blind date with her new hometown. Now, nearly two decades later, she's still in love. As founder and executive editor of Living-Las-Vegas.com, Edwards writes about real life in the shadow of the Strip. Her fiction draws on the city's fascinating history, inhabitants, and ebullient, ever-evolving personality.
Life is full of surprises, as Edwards discovered earlier, when a wildfire destroyed her home and all her possessions in the hills above Pasadena, California. Suddenly "stuffless," she, her husband and their dog decided to take a six-month road trip while they figured out what to do next. Nearly seven years later, they arrived in Las Vegas for what they thought would be a few weeks. Clearly not good at predicting their own travel plans, they're still here.
A former Latin teacher, Edwards has lived in Costa Rica, Italy, Germany, and Greece. She is the author of a travel memoir, a humor book, a mystery, and a literary romance. Full Service Blonde, another mystery, will be released in November. She's currently working on her next novel, which has a time travel element and features Julius Caesar as a major character.
For more information, visit meganedwards.com or connect on Facebook, Twitter, Instagram and Goodreads.
Save
Save
Save
Save