Happy Halloween and welcome to November, National Novel Writing Month. If you haven't participated in NaNoWriMo before, consider it. The structure can be a great way to get through a novel idea that has stumped you in the past, or a nice method to improve your skill and practice the craft of writing. Personally, I think it's a fun exercise in writing.
Announcements:
A big thank you to Donald Riggio, who gave an excellent presentation at our last meeting about using facebook to promote and build an author platform.
All dues paid members should have received a username and password for the website. If you haven't, email Gregory (gregory [at] kompes [dot] com).  Log in and check out the members-only forums.
If you would like an image of your published book on the webpage (this webpage), email the image and your domain name to Gregory.
Unfortunately, due to an oversight, the Henderson Writers' Group will not have a booth at the Las Vegas Book Festival this weekend. But, of course, many of us will be there to hear the great speakers and participate in a wonderful book festival. For more details visit their site: http://vegasvalleybookfestival.org/
Brags:
Congratulations to Wendy Randall on the upcoming performance of the Zion's Youth Symphony and Chorus. Wendy is the Artistic Director and Script Writer for this production, which performs two back-to-back patriotic concerts this Sunday, November 3rd at The Smith Center (361 Symphony Park Ave.) at 5:00 p.m. and 7:30 p.m. Both shows are sold out, but there will definitely be standby tickets available at the door. Admission is free.
Writing Tip from Jo Wilkins:
One of the most useful tools in self-editing is to hear someone else read your work out loud. If you don't have a person to read to you, consider recording yourself and playing it back.
Interview with HWG member Darlien Breeze: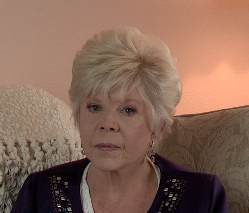 Darlien has been a member of the Henderson Writers' Group for more than ten years. She's the author of several mysteries and the education officer of our group. You can learn more about her books on her website: http://darliencbreeze.com
Here's a short interview, eight questions with Darlien:
1. Tell us a little about your background?
My background is diverse. I lived on a copper & gold mine as a child. I taught school for about 20 years concurrently sold real estate, owned a tool & dye shop, a glass factory and a beauty shop. I owned and operated an import/export business for seven years.
2. Did you choose writing or did writing choose you?
Writing chose me. As a child on the desert we had no TV, radio reception was sketchy so reading and storytelling were our entertainment. I developed an entire fantasy world and later wrote these and other tales into my stories.
3. What are the biggest surprises you've encountered as a writer?
My biggest surprise came when I realized that I actually am a writer not just someone with a lot of imagination.
4. What is your proudest writer moment?
I think my proudest moment came recently when I was invited to speak at the Utah Book festival.
5. What are the sources of your creativity?
The sources for my stories come from all over, bits of conversations, jokes, newspaper accounts, things that have occurred in my travels and pure fantasy.
6. Any advice for new writers?
My best advice to new writers is to write, write, write, I believe it was Oscar Wilde who said, "The way to learn to write is to write."
7. What do you read?
I'm a chain reader. When I put one book down, I pick up the next one. I like mystery and adventure. In a pinch, I'll read matchbook covers.
8. What are you currently working on?
My latest novel A Twist in Crime just finished being edited. It will be published by Ink&Quill in 2015.
Upcoming Meetings:
Our next weekly meeting is at the Coffee House on November 4th at 6:30 p.m.
The HWG screenwriting meeting will be discussing the movie "Die Hard" at their next meeting. It's at Skinny Dugans on November 6th, at 6:30 p.m.
For more information about our meetings, visit the calendar on this website.
Thanks for reading.  —Jenny Ballif, Newsletter editor