Fred Rayworth gave a good presentation on POV (that's Point of View) at this week's meeting. He compared POV to the angle the author uses to tell or show the story. His analogy about the point of view being a video camera was great, a good reminder to all of us to pay attention to that POV camera in our own writing. It should always help tell the story, not distract from the story.
Announcements:
Our Las Vegas Writer's Conference is coming up this April 24th 26th. Don't forget to register before the price increase on January 16th! The current cost is $425. After January 16th the price increases to $475. Also remember that members of the Henderson Writer's Group get a $25 discount on the price of the conference.
This Monday, December 16th, is our annual Holiday Party! We will meet at Tina's house. Please RSVP if you haven't already, and contact one of the board members if you need directions. Its a potluck BYOB event and the group is also providing sandwiches from Firehouse Subs. See you there at 6:30.
The results from our Anthology are in. Thirty one members submitted their work. This year an independent group of writers and university professors evaluated the submissions according to a rubric written by the board members of the HWG. The judges ranked originality, voice, structure, style, and technical aspects. All those who submitted will receive feedback from the judges and notes about their submission.
Thank you to all members who submitted material for the anthology, and congratulations to the 19 members whose submissions will be included in the anthology:
Jenny Ballif,   Garry Buzick,   AL Campbell,   Sydnee Elliot,   Howie Erickson,   Richard J Feller,   Andres Fragoso Jr.,   Ray K Katz,   Judy Shine Logan,   Wolf O'Rourc,   Toni Pacini,   Kevin B Parsons,   Fred Rayworth,   Nancy Sansone,   Lauren Tallman,   Glory Wade,   William Walles,   Darrah Whitaker,   Bobbi White
Brags:
Congratulations to Kathleen Mosko on singing with Bocelli last Saturday.
Congratulations to Tina Willis and Kathleen Mosko on setting up a basic writer iphone ap.
Congratulations to Amanda Skenadore on being one of 52 finalists (selected from over 2,700 applicants!) in the Pitch Wars contest!
Congratulations to Morgan St. James on a full calendar of local events this January surrounding her new book "La Bella Mafia."
Writing Tip from Jo Wilkins:
Last week when I was sitting with Jo at her kitchen table, I learned something good about writing synopses:
A one page synopsis is not a *true* synopsis. It's a sales pitch. Like the query, the one page synopsis should draw the reader in, it should create an emotion of "I want to read that book." A chapter by chapter synopsis is a true synopsis, where the author is expected to lay out every significant plot detail.
If you'd like to learn more about writing a synopsis, Chuck Sambuchino has a great series on topic at WritersDigest.com. Here's a link to a Writer's Digest post featuring 8 great articles about writing a synopsis.
Quote of the night:
"He can grow a beard. I can't. That obviously gives him a superior point of view."
Interview with Judy Logan:
Judy Logan is currently the librarian of our Henderson Writers' Group. She maintains a great selection of books about writing. If you'd like to borrow one, or several, contact her at jeslogan1 at hotmail dot com.
Judy, tell me when and how did you start writing?
I've always written both fiction and non-fiction. I like to joke that I began writing so early, I probably signed my own birth-certificate.

When I was a young wife and mother, one of my pastors suggested I start writing columns for our church newsletter, which I finally did. Because those columns were well-received, she asked me to take the Certified Lay Speakers Training and begin preaching in her absence.
I wrote and delivered about 30 sermons over the years  for many pastors, and I am now crafting them into book called "Spiritual Reflections."
Your first novel was published this month (congratulations!). When did you start writing it, and what inspired you to write about the friendship between a widowed woman and a battered woman?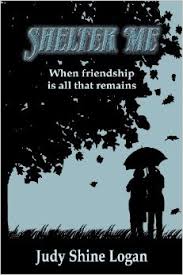 Yes, this is my first novel. I started writing it in the late 1980s as a short story based on my grandmother's widowhood. Then after spending six years working at Boston Regional Medical Center in the psychiatry department, where I saw lots of battered women and children. I had to purge those horrible stories from my mind and heart. I began writing my recollections of the commonalty between their abuse and feelings.
One day, I wondered what would happen if you put two women at opposite ends of the love spectrum (good love and bad love) together and forced them into a circumstance where they had to help each other.
The novel was finished in 1990 and called "Entitled to Love." After sending out queries and chapters for several years I put the novel away and concentrated on my husbands deteriorating health.
It wasn't until my husband's death that I realized I was really ready and able to write the widow's part. The pain had become up close and personal: the terror,the disbelief, the anger, the sadness, the total-disconnection with and dissolution of everything that made him and me a "we."
It took a long time to become "me" again.  I was booted from the empty nest and forced to fly again, thanks to God's help and that of family and friends.
I started working on my novel again when I came to Vegas in 2010. My children insisted that I try to publish it. They were my greatest cheer-leaders and "fanny-booters."
Ink and Quill picked up the book in January 2011 and it's now published and called "Shelter Me: When friendship is all that remains."
At the end of the day, I guess you could say the novel was an overnight success, only 24 years to publication!
Thank you very much Judy! 
Upcoming meetings and events:
Monday December 16th is the Holiday Party at Tina's house! Next Wednesday December 18th is the Poetry meeting at Skinny Dugans.
We will be meeting the last two Mondays in December. On the 23rd we'll be at the church on Tropicana. The meeting on the 30th will be at the Coffee House and we'll do a first chapter read.
Thanks for reading.
Jenny Ballif- Newsletter Editor