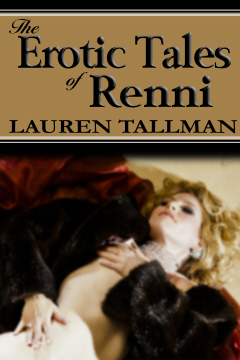 Readers BEWARE!
Scandal has reached us! A certain young woman by the name of Renni has infiltrated our conservative group. Yes! Her scandalous activities have reached our shores about (dare I say it?) her lewd behavior with a number of African tribal members on a ship. Then there were (oh heavens) the indecencies she withstood with a couple where, during nightly escapades, she was touched but was not allowed to touch. And there is the bawdy incident with a lawmaker, tied to a bed, where she…oh, no, I cannot continue!
Do not divulge her shameless behavior to your friends or share her site http://erotictalesofrenni.com, for they may fall into her web of lust and erotic craving.   
Of course, for those who cannot keep away, read the first pages of 'The Erotic Tales of Renni' on the site. And for those in need of release, for those whose brow is now damp, beware! Once reading the entire book you will forever be drawn to her ravenous cavern of desire and never return…


—
Lauren Tallman
Author of "How To Have An Affair and Not Get Caught" now #1 BESTSELLER ON AMAZON
Join the 'How To Have An Affair and Not Get Caught' group on Facebook.