That's right. A dime. Ten little cents. You have that much in a penny jar in your closet, right?
A terrific new coop between literature and business has begun in town.  Henderson Writers Group teams up with CoCo Cafe in Town Square. Support for the business is support for the writer. Support for the writer is support for the business! We hope you'll join us!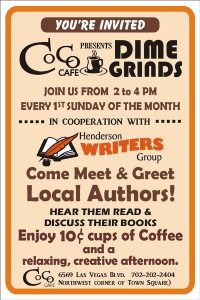 This month features Mathieu Cailler, author of Loss Angeles, and Lauren Tallman, author of How to Have an Affair and Not Get Caught.
At .10 a cup, how can you go wrong?